Light Weight Conveyor Belt Classification, EXQUISITE International Teach You How To Choose
Many users are confused to choose the right conveyor belt when facing the complex and diverse types of conveyor belts on the market. But now, you need not worry any longer, today EXQUISITE International is happy to share some helpful knowledge about the classification of conveyor belts.
1. According to the classification of light weight conveyor belts, generally, it can be divided into PVC conveyor belt, rubber and plastic product conveyor belt, PU conveyor belt, PE conveyor belt and so on.
2. According to the specifications, color, industry, environment and materials of the light weight conveyor belt.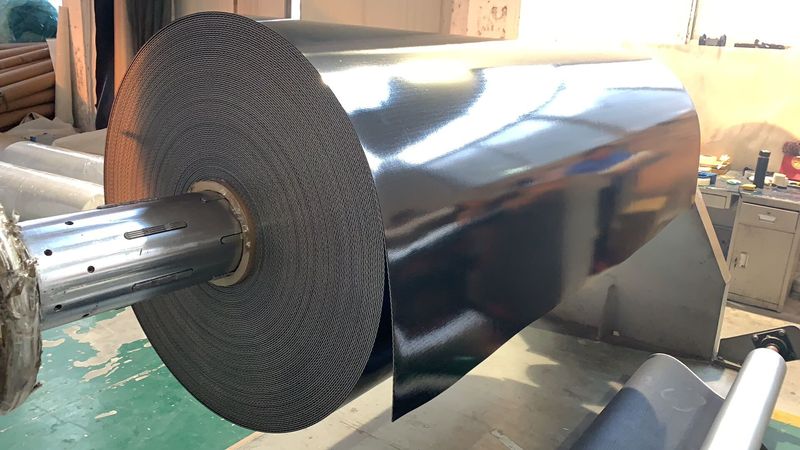 Now we explicate it as the first classification.
(1) PVC conveyor belt: thickness 1.0, 1.5, 2.0, 1.8, 2.5, 3.0, 3.5, 4.0, 5.0, 6.0, 9.0, etc., belt color: white, dark blue, green, black, dark green conveyor belt, etc., the surface is the smooth PVC, the bottom is the conductive original fiber; the joint form has the lap joint, finger joint and cold joint. The PVC conveyor belt is widely used for food, medicine, electronics, tobacco, printing, packaging, textile, etc.
(2) Rubber and plastic conveyor belt: thickness 0.5-1.5, 1.0-1.5, 1.5-2.0, 2.0-3.0, 1.0-2.0. This belt has the comprehensive advantages of rubber and plastic, excellent performance and wide application ranges. The conventional products have the light surface and hair surface, special ones are double-sided light. The double-sided hair is used in food, electronics, printing and packaging, textile, printing and dyeing, chemical, postal, airport, tea, tire, metallurgy and so on. Medium-load transmission: metallurgy, building materials, wood, postal, chemical and other heavy-duty materials transfer; It is widely used in various industries, production lines in various fields, except the white food belt, all the rubber and plastic conveyor belt needs the anti-static treatment.
(3) PU food conveyor belt: thickness 0.8, 1.4, 2.5, color: white, green, black, application industry: food industry, biscuit, chocolate, meat.
PU food conveyor belt temperature range -10℃ ~ 80℃
Non-slip belt, green and white, the surface has a small round convex pattern or horseshoe pattern, suitable for bulk material, powder material rises and transmits.
Special pattern belt, the surface is deep pattern, anti-slip, suitable for special occasions, special materials processing and transmission.
Diamond mesh pattern belt, it increases the surface friction and grip force against slippage, suitable for processing and conveying of steamed particles.
At the same time, PU conveyor belt can also be used to make guide belt, lifting belt, skirt belt through the special processing.
Guide belt: The transmission surface is added with a positioning guide bar, ensures the orientation is anti-biased.
Lifting belt: The loading surface is added with the lateral baffle, ensures the material is lifted and transported.
Skirt belt: Ensure the material lifts, no scattering.
Sanding machine belt: The belt is for wood processing, its surface is a variety of different patterns to ensure the safety and reliability of processing.
Features of food industry conveyor belt:
Anti-acid and alkali, organic solution, animal and plant mineral oil and fat, guide bars and baffles for option. Comply with FDA and FGA food hygiene standard.
All in all, the light weight conveyor belts can be used in a variety of different industries: food, logistics, electronics, tobacco, wood, stone, fitness and other fields!
(4) PE is the abbreviation of polyethylene. It is the simplest polymer organic compound. It is the most widely used polymer material in the world. It is polymerized from ethylene. It is divided into high density polyethylene, medium density polyethylene and low density polyethylene according to the density.
PE conveyor belt has the characteristics of high tensile strength, good winding, light and thin, oil resistant, non-toxic and hygienic, easy to clean. The PE conveyor belt reaches US FDA food hygiene standard. The conveyor belt has excellent wear resistance and physical aging resistance and is a very durable conveyor belt product.
PE conveyor belt has the characteristics of acid and alkali resistance, corrosion resistance, cutting resistance and non-toxicity at 800℃ high temperature combustion.
Clasificación de la banda transportadora de peso ligero, EXQUISITE International Enséñale Cómo Elegir
Muchos usuarios se confunden al elegir la banda transportadora correcta cuando se enfrentan a los complejos y diversos tipos de cintas transportadoras en el mercado. Pero ahora, no necesitas preocuparse por más tiempo, hoy EXQUISITE International se complace en compartir algunos conocimientos útiles sobre la clasificación de las cintas transportadoras.
1. Según la clasificación de las cintas transportadoras de peso ligero, en general, se puede dividir en cinta transportadora de PVC, cinta transportadora de caucho y plástico, cinta transportadora de PU, cinta transportadora de PE, etc.
2. Según las especificaciones, el color, la industria, el medio ambiente y los materiales de la cinta transportadora de peso ligero.
Ahora lo explicamos como la primera clasificación.
(1) Cinta transportadora de PVC: espesor (mm) 1.0, 1.5, 2.0, 1.8, 2.5, 3.0, 3.5, 4.0, 5.0, 6.0, 9.0, etc., color de la cinta: blanco, azul oscuro, verde, negro, cinta transportadora verde oscuro, etc., la superficie es el PVC liso, la parte inferior es la fibra conductora original; La forma de la articulación tiene la articulación del regazo, la articulación del dedo y la articulación fría. La cinta transportadora de PVC es ampliamente utilizada para alimentos, medicinas, electrónica, tabaco, impresión, embalaje, textil, etc.
(2) Cinta transportadora de caucho y plástico: espesor(mm) 0.5-1.5, 1.0-1.5, 1.5-2.0, 2.0-3.0, 1.0-2.0. Esta cinta tiene las ventajas integrales del caucho y plástico, excelente rendimiento y amplias gamas de aplicación. Los productos convencionales tienen la superficie de la luz y la superficie del cabello, los especiales son la luz de doble cara. El cabello de doble cara se utiliza en alimentos, productos electrónicos, impresión y embalaje, textiles, impresión y teñido, productos químicos, correos, aeropuertos, té, neumáticos, metalurgia, etc. Transmisión de carga media: metalurgia, materiales de construcción, madera, correo, químicos y otros materiales pesados de transferencia; Es ampliamente utilizado en varias industrias, líneas de producción en varios campos, excepto la cinta alimenticia blanca, toda la cinta transportadora de caucho y plástico necesita el tratamiento antiestático.
(3) Cinta transportadora de alimentos de PU: espesor 0,8, 1,4, 2,5, color: blanco, verde, negro, industria de aplicación: industria alimentaria, galletas, chocolate, carne.
Rango de temperatura de la banda transportadora de alimentos de PU -10 ℃ ~ 80 ℃
Cinta antideslizante, verde y blanco, la superficie tiene un pequeño patrón convexo o herradura redondo, adecuado para material a granel, el material en polvo se eleva y transmite.
Cinta de patrón especial, la superficie es patrón profundo, antideslizante, adecuado para ocasiones especiales, procesamiento y transmisión de materiales especiales.
Cinta de malla de diamante, aumenta la fricción de la superficie y la fuerza de agarre contra el deslizamiento, adecuado para el procesamiento y transporte de partículas al vapor.
Al mismo tiempo, la cinta transportadora de PU también se puede utilizar para hacer la correa de guía, la correa de elevación, la falda a través del procesamiento especial.
Cinta de guía: la superficie de la transmisión se agrega con una barra de guía de posicionamiento, asegura que la orientación sea anti polarizada.
Cinta de elevación: la superficie de carga se agrega con el deflector lateral, lo que garantiza que el material se levante y se transporte.
Cinta de falda: Asegúrese de que el material se levante, sin dispersión.
Cinta de la máquina de lijar: la banda es para el procesamiento de la madera, su superficie es una variedad de diferentes patrones para garantizar la seguridad y la fiabilidad del procesamiento.
Características de la cinta transportadora de la industria alimentaria:
Anti-ácido y álcali, solución orgánica, grasa y aceite mineral animal y vegetal, barras de guía y deflectores para la opción. Cumplir con las normas de higiene alimentaria FDA y FGA.
En general, las cintas transportadoras de peso ligero se pueden utilizar en una variedad de industrias diferentes: alimentos, logística, electrónica, tabaco, madera, piedra, fitness y otros campos.
(4) PE es la abreviatura de polietileno. Es el compuesto orgánico polimérico más simple. Es el material polimérico más utilizado en el mundo. Se polimeriza a partir de etileno. Se divide en polietileno de alta densidad, polietileno de densidad media y polietileno de baja densidad según la densidad.
La cinta transportadora de PE tiene las características de alta resistencia a la tracción, buen devanado, ligero y delgado, resistente al aceite, no tóxico e higiénico, fácil de limpiar. La cinta transportadora de PE alcanza el estándar de higiene de alimentos de la FDA y FGA. La cinta transportadora tiene una excelente resistencia al desgaste y resistencia al envejecimiento físico y es un producto muy duradero para la banda transportadora.
La cinta transportadora de PE tiene las características de resistencia a ácidos y álcalis, resistencia a la corrosión, resistencia al corte y no toxicidad en una combustión de alta temperatura de 800 ℃.