Our President Is Happy to Share Experience Conversation!
¡Nuestro Presidente Está Feliz Compartir la Experiencia la Conversación!
President - EXQUISITE International Development Co., Ltd Share Experience Conversation
Presidente - Beijing EXQUISITE International Development Co., Ltd Comparta Experiencia Conversación
Business Chapter
Q: What are the competitive advantages of EXQUISITE International's conveyor belt than other competitors?
A: Product series is relatively complete, kinds of specification, excellent chemical performance, faster delivery, more cost-effective, more timely service, more competitive.
Q: Please introduce the company's main consumer groups.
EXQUISITE International's conveyor belt has excellent performance in Logistics Industry, Tobacco Industry, Food Industry, Tire Industry, Stone Industry, Fabric Industry, Wood Industry, Electronic Industry, Carton Industry, etc.
Our directly customers include end-users, machinery manufacturers and distributors, they generally purchase our belt by rolls.
Q: What are the main raw materials purchased by your Company?
The main raw materials are TPU materials, PVC materials, DOTP, industrial fiber.
Q: Please introduce the production process of your main products.
Company mainly choose the coating and calendering and food belt with the rolling extrusion process, which are based on the type of raw materials, technical indicators, product batch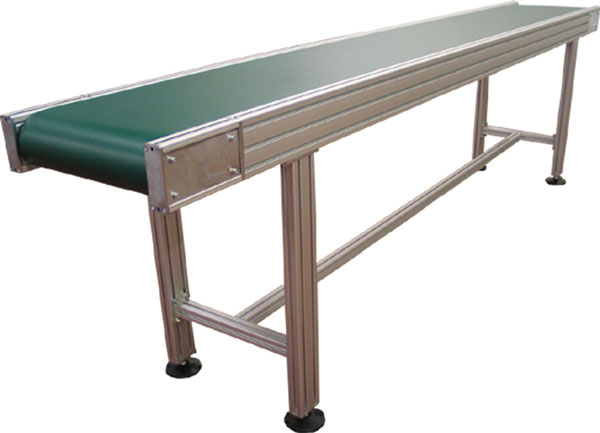 Industry Chapter
Q: What are the favorable factors affecting the development of the conveyor belt industry?
(1) Human costs Increased and level of automation improved stimulate the industry demand; (2) Industrial policy supports the development of the industry;
(3) Environmental protection and food safety requirements accelerate the development of the industry;
(4) Polymer materials and technological materials modification progress the industry.
Q: What are the barriers to enter the industry?
(1) Technical barriers;
(2) Barriers of market development;
(3) Product series and scale barriers;
(4) Talents barriers.
Q: What about the service life of the light duty conveyor belt?
There is the big differences: conveyor belt type, application industry characteristics, frequency of use, working conditions, maintenance status, the replacement of belt is from months to more than ten years.
Welcome to download our technical support, extend the conveyor belt life!
How Can We Improve Life of PVC Conveyor Belt Be Longer.pdf
Q: What are the technical barriers to enter the industry?
The light duty conveyor belt technical barriers are mainly reflected in the process equipment, material modification, manufacturing process and application knowledge. At present, there is no mature equipment suppliers who can finish the complex coating process and rolling process at home and abroad. Manufacturers need to master the series of products modified and many formulations, the manufacturing process temperature, tension and other process parameters, only the mature enterprises can provide high-quality conveyor belt, this needs for long-term research and development and technology accumulation!
Q: Does Company's consumer industry have a region?
Europe and North America market are high demand.
Q: Does the company's industry have the circle?
The light conveyor belt is widely used, including a large number of industries, aperiodic industries and anti-cyclical industries, so its cycle is not obvious.
Capítulo de Negocios
¿Cuáles son las ventajas competitivas de la vuestra cinta transportadora que otros competidores?
La serie del producto son relativamente completa, clases de especificaciones, funcionamiento químico excelente, entrega más rápida, servicio más bajo costo, más oportuno, más competitivo.
Introduzca los principales grupos de consumidores de la empresa.
La cinta transportadora de EXQUISITE International tiene las excelentes prestaciones en la Industria Logística, Industria del Tabaco, Industria Alimentaria, Industria de Neumáticos, Industria de Piedras, Industria Textil, Industria Maderera, Industria Electrónica, Industria de Cartón, etc.
Nuestros clientes directos incluyen a los usuarios finales, fabricantes de maquinaria y distribuidores, generalmente compran nuestra cinta transportadora por rollos.
¿Cuáles son las principales materias primas compradas por su empresa?
Las materias primas principales son materiales de TPU, materiales del PVC, DOTP, fibra industrial.
Introduzca el proceso de producción de sus productos principales.
Empresa principalmente elige el recubrimiento y el calandrado y la cinta de alimentos con el proceso de extrusión de laminación, que se basan en el tipo de materias primas, indicadores técnicos, lote de productos
Capítulo de Industria
¿Cuáles son los factores favorables que afectan el desarrollo de la industria de la cinta transportadora?
(1) Costos humanos Aumentado y nivel de automatización mejorado estimulas la demanda de la industria;
(2) La política industrial apoya el desarrollo de la industria;
(3) La protección del medio ambiente y los requisitos de seguridad alimentaria aceleran el desarrollo de la industria;
(4) Los materiales de polímero y materiales tecnológicos progresan la progresión de la industria.
¿Cuáles son las barreras para entrar en la industria?
(1) Barreras técnicas;
(2) Barreras de desarrollo del mercado;
(3) Barreras de serie y escala;
(4) Barreras de talentos.
¿Como esta la vida de la cinta transportadora?
Hay las diferencias grandes: tipo de cinta transportadora, características de la industria de aplicación, frecuencia de uso, condiciones de trabajo, estado de mantenimiento, la sustitución de la cinta es de meses a más de diez años.
Bienvenido a descargar nuestro soporte técnico, prolonga la vida de la cinta transportadora!
¿Cuáles son las barreras técnicas para entrar en la industria?
Las barreras técnicas de la cinta transportadora se reflejan principalmente en el equipo de proceso, la modificación del material, el proceso de fabricación y el conocimiento de la aplicación. En la actualidad, no hay proveedores de equipos maduros que puedan terminar el complejo proceso de recubrimiento y proceso de laminación en casa y en el extranjero.
¡Los fabricantes necesitan dominar la serie de productos modificados y muchas formulaciones, la temperatura del proceso de fabricación, la tensión y otros parámetros de proceso, sólo las empresas maduras pueden proporcionar alta calidad cinta transportadora, esto necesita para la investigación a largo plazo y la acumulación de tecnología!
¿La industria de consumo de la Compañía tiene una región?
Mercado de Europa y América del Norte tienen de alta demanda.
¿La industria de la cinta transportadora tiene el círculo?
La cinta transportadora es ampliamente utilizada, incluyendo un gran número de industrias, industrias aperiódicas e industrias anticíclicas, por lo que su ciclo no es obvio.