China's Logistics Transportation Equipment and Intelligent Automation
Equipos de Transporte de Logística Y Automatización Inteligente de China
The logistics transportation equipment is commonly used in the electronic plastics, chemical medicine, food industry, light industry transport machinery. The Logistics transportation equipment can transport the materials for far distance and large amount of transportation, its structure is simple, easy to maintain. The beltconveyor can be easily implemented product requirements specified by the parameters of the development process, the program control and automated operation of the material delivery. The logistics conveyor can also achieve vertical and inclined and horizontal transportation of materials, its high-speed operation, smooth, low noise can also be downhill for material transmission.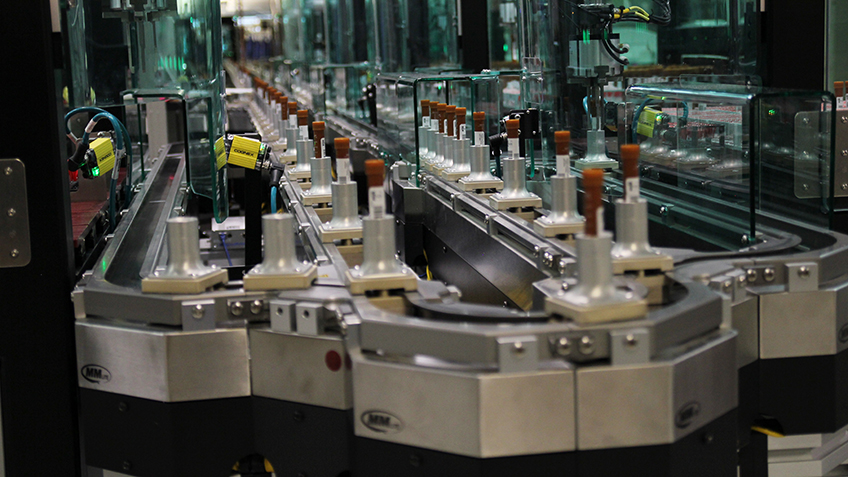 Specially now,the emergence of a variety of transportation equipment, only a few or even oneperson can control the operation of the entire conveyor system, which not only improves the efficiency, but also save the cost of employment, bring moreprofits for enterprises. So many automated transmission equipment manufacturer salso have emerged mushroomed.
China's logistics and transportation equipment has the characteristics: late start but rapid development, logistics and transportation equipment industry has entered the periodof innovation capacity from the period of structure product. Beijing EXQUISITEInternational Development Co., Ltd own the independent design team and rich production experience, the reliable expert of light conveyor belt.
Although China is the major producer of logistics and transmission lines, but the intelligent automation is relatively weak and can not meet the current production demand. We Beijing EXQUISITE International Development Co., Ltd must urge the logisticsand transportation equipment industry to high-end production, intelligentoperation and automation, and actively achieve the industry's first-class level,make the positive contribution for China's intelligent automation!
El equipo de transporte de logística se utiliza comúnmente en los plásticos electrónicos, medicina química, industria alimentaria, maquinaria de transporte de la industria ligera. El equipo de transporte Logística puede transportar los materiales para la distancia y gran cantidad de transporte, su estructura es simple, fácil de mantener. El transportador puede ser fácilmente implementado requisitos del producto especificado por los parámetros del proceso de desarrollo, el control del programa y el funcionamiento automatizado de la entrega del material. El transportador de logística también puede lograr el transporte vertical y inclinado y horizontal de los materiales, su operación de alta velocidad, suave, bajo ruido también puede ser cuesta abajo para la transmisión de material.
Especialmente ahora, el surgimiento de una variedad de equipos de transporte, sólo unos o incluso una persona puede controlar el funcionamiento de todo el sistema de transportador, que no sólo mejora la eficiencia, sino también ahorrar el costo del empleo, aportar más beneficios para las empresas. Así muchos fabricantes de equipos de transmisión automatizada también han surgido se multiplicaron.
La logística y el equipo de transporte de China tiene las características: inicio tardío, pero el desarrollo rápido, la logística y la industria de equipos de transporte ha entrado en el período de capacidad de innovación desde el período de producto de la estructura. Beijing EXQUISITE International Development Co., Ltd posee el equipo de diseño independiente y la experiencia de producción rica, el experto confiable de la cinta transportadora de luz. Aunque China es el principal productor de logística y líneas de transmisión, pero la automatización inteligente es relativamente débil y no puede satisfacer la demanda de producción actual. Beijing EXQUISITO International Development Co., Ltd estamos debe instar a la logística y la industria de equipos de transporte de alta gama de producción, operación inteligente y la automatización, y logramos activamente el nivel de primera clase de la industria, hacemos la contribución positiva para la automatización inteligente de China!