Water Cool Hot Pressing Vulcanizer Conveyor Belt
Vulcanizador De Prensado En Caliente Con Agua Fría Cinta Transportadora

Water cooling pump, steel structure body.

Heating platen, heating area, width 200mm, different type press available.

Generally, width from 600mm to 3000mm, and we use the aluminum body for wider than 1500mm.

Reliable flexible automatic Temperature Control Panel with time control.

Fast heat performance, only 14~19 mins, heating to 180℃; Fast cooling performance, 180℃ to 60℃ in 2.5-5minutes,

the time depends on the different size press, temperature error (on 650mm Up and bottom hot plate) is less than 3℃.

High performance for PVC belt, PU belt and Polyester Monofilament synthetic belting.

Air pressure bag 0~0.3 mpa and laser silica gel hot platen, rapid cooling system within platens.

Very light weight, and easy to assemble and use.

Voltage: 220V or 380V, if special voltage acceptable.

Steel housing and opening system is optional.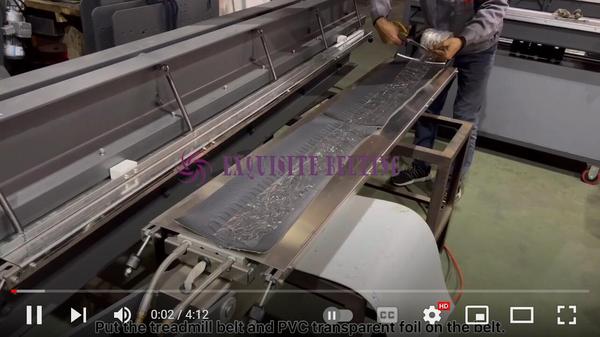 ModeI

PB600-150

PB900-150

PB1100-

150(200)

PB1300-150

PB1600-150(200)

PB2100-150(200)

Effective

Length

(mm)

500

800

1000

1200

1500

2000

Effective

Width

(mm)

150

150

150(200)

150

150(200)

150(200)

Weight

Upper

Part (KG)

18

30

35

35

57

94

Weight

Lower

Part (KG)

21

30

41

41

63

102

Total

Weight (KG)

45

65

87

87

125

196

Over AlI

Length

(mm)

720

1020

1410

1680

1910

2420

Over AlI

Height

(mm)




310

310

310

310

390

390

Max Pressure

(Bar)

2

2

2

2

2

2

Max Temperature (℃)

200

200

200

200

200

200

Packaging

List

(L*W* H)

(mm)

1360*480*540

1670*520*540

2050*480*540

2060*480*540

2450*550*490

2950*600*490

Packing

Weight (KG)

104

120

135

174

200

264

Power (W)

2016(150)

3024(150)

3696(150)

3300(150)

5760(150)

7560(150)

9072(200)
Including